Upcoming Events:
Heavy Construction Industry Night
Overview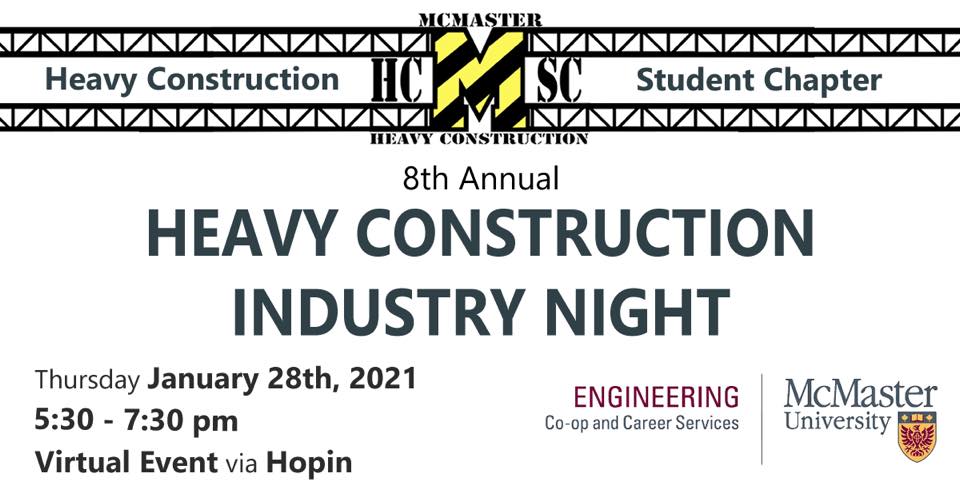 Are you looking to work for a civil engineering company and get some real experience as a co-op student or full-time new grad? Come to the Heavy Construction Industry Night and speak to top civil employers looking to hire you!
 
Every year our chapter hosts 45+ industry organizations and 150+ engineering students at McMaster University for a night of student employer networking. Students of all academic levels interested in 4/8/12/16 month Co-op, New Grad and Engineer in Training positions are encouraged to attend!
 
This year our event will be hosted online via Hopin and all companies will be assigned their own personal booth where students can visit specific employers they are interested in and network directly.
You must register on OscarPlus to attend. Access information will be sent to everyone registered the week of the event!
Resume Book:
Improve your chances of getting hired by uploading your resume for inclusion in our Student Resume Book! The book will be given to all attending employers to help in their recruitment process!
Upload your Resume (Must be signed in to a McMaster email): https://forms.gle/GqB6usoYeA3Ccszg7

Questions? Email us at hcsc@mcmaster.ca or visit us on LinkedIn: https://www.linkedin.com/in/mcmasterhcsc/?